Ok, so in my last post I said I would provide more info on travel trailer sizing, so here goes...
Travel Trailers in the under-4000-pounds -
Range in size from the compact 13-foot trailer models up to those measuring approximately 22 feet. The larger travel trailer units are suitable for extended use, while the smaller units make great weekenders.
The 18-foot and larger models offer full bathroom facilities, including a separate shower and a fully equipped galley.Living room and dining-area space and furniture are governed in large part by the overall size of the unit, with the more elaborate layouts being found toward the upper limits in size, class, price and weight.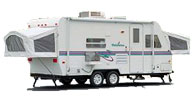 The larger models in this size class require some serious consideration of the tow vehicle selected. There is a wide range of vehicles that will tow this size trailer, but the tow vehicle must be selected with the total weight of the trailer in mind.
Prices for travel trailers under 4000 pounds can range from $9000 to $20,000.
Travel Trailers Over 4000 Pounds -
Depending on the floorplan, these units -- like their smaller counterparts -- are suitable for large families or for extended use by two people. With the increased size (they range between 25 and 37 feet), there is a wider selection of floorplans available. Some of the options are aimed at the large family, such as a separate bunkhouse-style rear bedroom.
For two people, the larger models offer generous living accommodations. Top-of-the-line models have facilities and space quite competitive with the larger motorhomes, but at more manageable prices. Slide-out rooms are becoming much more common in the larger units for the increase in living space they offer, but the buyer should be aware that sliders noticeably increase weight as well as space. Even when a new tow vehicle is factored in, the price range for the more expensive travel trailers is well below the higher-priced motorhomes.

Most of these units will require a pickup truck or a truck-based vehicle, such as a Suburban or a full-size van for towing. Any of these tow vehicles, including a pickup truck if a shell is added, is suitable for "cartopping," the ability to carry a good-size fishing boat, for trailering anglers. These larger units make an excellent choice for a couple on a budget who want to spend extended periods of time in their RV.
Any size trailer has a major advantage over the motorhome when it is set up for living, since the tow vehicle is free for local transportation. Conversely, the trailer is only available for use when stopped, as opposed to the motorhome's facilities, which are available while moving.
Prices for travel trailers over 4000 pounds can range from $12,000 to $75,000.
In my next post I will get into some more info on tow vehicles.